The team is key to any translation business. You can manage your team in Smartcat by going to People > My team:
Here is how you do it:
Step 1. Add a new team member
You may add both translators and colleagues to your team, including managers, administrators, etc.
To add a new team member:
Click "+" next to the People menu or on the page with the same name.

Enter the invitee's email
If the invitee is not yet signed up with Smartcat, only you and your managers will see their profile.

If the user is already signed up with Smartcat, they will be added to your team 



Complete the remaining fields: full name (unless the user is already on Smartcat) and access level, your personal message to the invitee, and the email language.
Click Invite. The invitee will get an email with sign-up instructions and a short platform overview.
Step 2. Add member's language pairs and rates
If you want to invite the user to translation projects in the future, add their language pairs, services — translation, editing, proofreading, layout, etc. — and specializations. Smartcat will automatically calculate the service price and include any repetition- and TM-based discounts.
To do this:
Click Add services on the member's card.
Click Add service on the page that opens.
Select the language pairs and services this member covers.
Enter their rate.
Specify their specialization.
Step 3. Ask invitees to complete their profiles.
To feel at home with your team directory, ask all invitees to edit their profiles:
Add photos;
Write a short bio;
Upload a CV and sample translations.
Don't worry, your added members' profiles will only be visible to you and your managers. These details are just meant to make your work with team members more convenient.
Step 4. Find the right linguist
After you have added all members and their language pairs, services, rates, and specializations, you can easily find the right one by filtering them according to
Language pair, service, and specialization,
Test results and sample translations,
Daytime in their time zone, and
Rate range.
If you can't find the right linguist in your team, you can search the Smartcat marketplace by clicking Find on marketplace under the member list.
Step 5. Invite team members to a project
You can invite a member to an existing project by clicking "+" next to the document name and choosing the member from the list.
You can also invite a member right from their profile — either to an existing project or by creating a new one specifically for them.
FAQ
How to set up access levels?
You can use access levels to restrict your account users' rights:
| Access level | User rights |
| --- | --- |
| Assignee | Only view and work with projects and documents assigned to them. |
| Resource manager | Same + manage the account's TMs and glossaries. |
| Project manager | Same + create, delete, and change any projects, including those NOT created by them. |
| Administrator | Same + add and delete users, manage paid services, and pay for assignees' jobs. |
You may add your own access levels in Settings > Access levels. For example, you can configure a higher access level to a certain project.
How does this work for team members?
Invited team members will see a Smartcat UI similar to yours but limited according to their access levels (See also How to set up access levels?):
Assignees will see projects assigned to them.
Resource managers will also see the account's resources (TMs and glossaries).
Project managers will see all projects.
Administrators will see the same features as you do.
If you plan to pay your members via Smartcat, tell them to go to the My payouts section and select their preferred payout method depending on the country: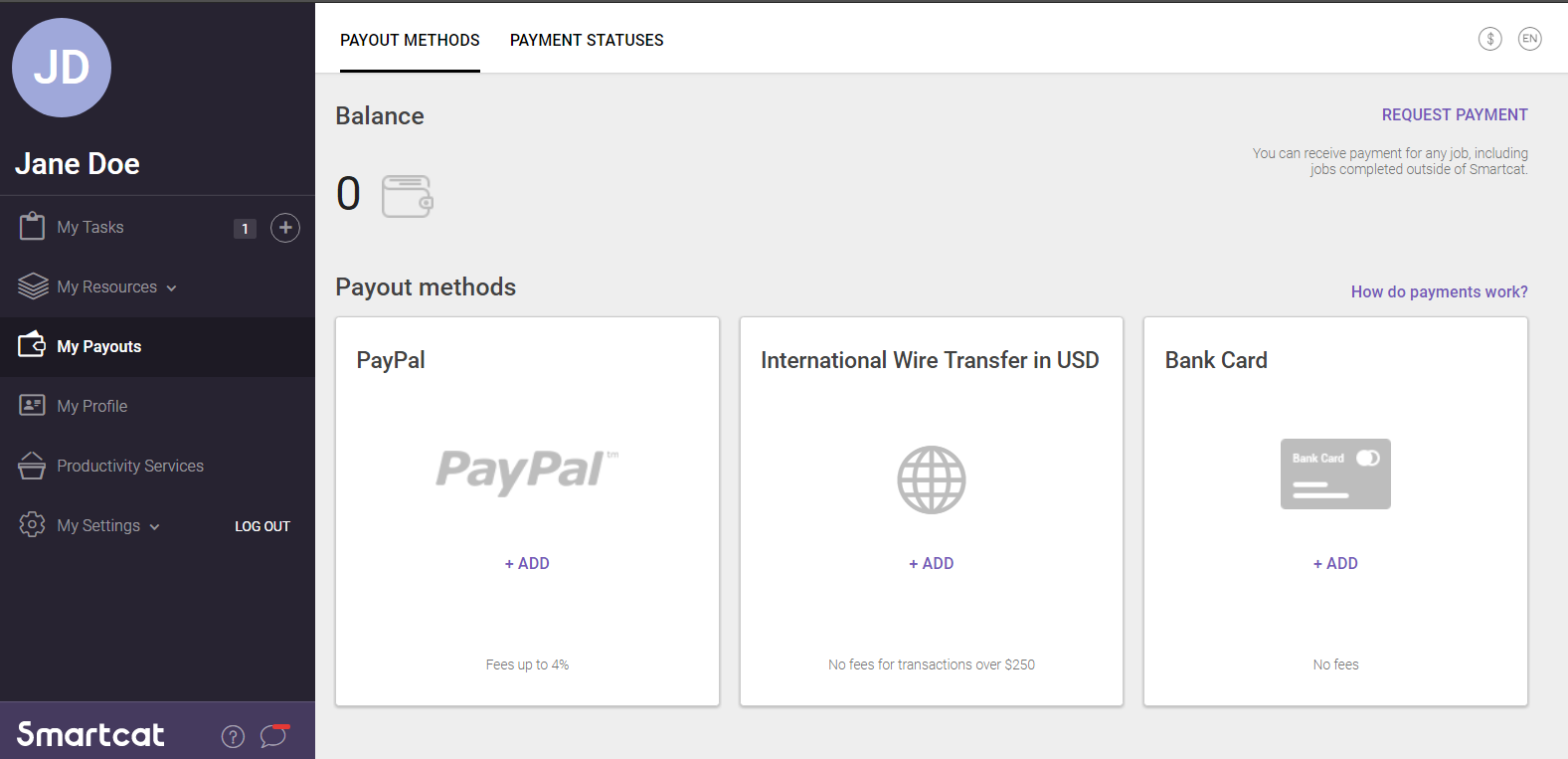 Bank cards, PayPal, and wire transfer payouts are supported for all countries. Local payout methods are additionally supported for some countries. In Russia, for example, freelancers can received payouts to Yandex.Money, QIWI, and WebMoney.